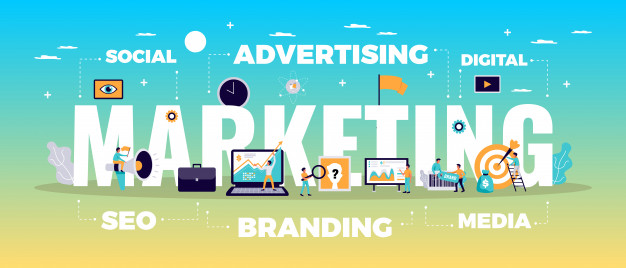 Marketing exists in this world when we even don't know the specific action is nothing but marketing. Marketing is a very old concept and of of the most important in business. There are many terms and theories came into the marketing same may worked well and some failed still many new concept and theories are coming and one the concept is Digital marketing.
In the 90's term called Digital Marketing was coined, as the internet user increased digital marketing started taking over as one of the most sophisticated concept in the marketing.
Digital Marketing changing the way businesses use the technology, as digital platforms are increasing day by day digital marketing is coming up as a most used concept in the digital world. Let's take a deep dive into the ocean which is known as Digital Marketing.
What is Digital Marketing
All the marketing efforts in which we use the digital devices and internet digital marketing. In a very layman language when we promote our services and products and try to sell them to the customers using the internet and digital platform is digital marketing. If someone asks what digital marketing is, you can explain them using the above given definition in the very simplest form.
Marketing is nothing but offering the right thing at the right time, and most of the people are online now a days so digital marketing the best option for the businesses to offer right thing at the right time.
Digital Marketing is very vital for the business be it small or big business they have website or if not they might be using something else for digital marketing like social media account or digital ads but no one is ignoring the digital marketing in t his era.
Digital marketing has so many tactics where in you can easily connected to the customers as promote your products and service is a very cost effective way. Digital Marketing gives the best ROI in all kind of marketing efforts and its long lasting as well.
Types of Digital Marketing
Here are the types of digital marketing which is helping the business to grow their businesses.
·

SEO(Search Engine Optimization)
SEO is an activity which helps our website to rank on the top of the search engines such as Google and Bing and any others. This helps us to stay ahead in the business and we get the good traffic on our website for free.
SEO also has three different categories such as
1.

On-Page SEO: When we do any activity on your website to get the higher ranking.

2.

Off-Page SEO: When do any activity on third parties website for the higher ranking.

3.

Technical SEO: When we are taking care of the codes or the backend of the website.
SEO is considered is the top notch activity of the digital marketing as it helps in higher ranking, free traffic and it's an ongoing effort to make the codes better.
Social Media Marketing helps in promoting your content to your targeted audience for traffic, sales, customer engagement and the leads for the business. Social Media Marketing has various and very popular platforms such as
1.

Facebbok

2.

LinkedIn

3.

Instagram

4.

Pinterest

5.

Twitter
Ore then half of the world's population is on these social media platform which is helping businesses to achieve the success. Few businesses use only social platform for sales and still they manage to make the sales as per their plan.
·

Paid Ads(PPC/ Pay Per Click)
We can runs paid ads on any website which will help us in getting the traffic and sales. Platform which allows us to run the paid ads we pay them every time when our ads were clicked. One of t he best example is Google Ads and Facebbok Ads, apart from this there any others platform which allows us to run the ads and businesses are getting the optimized results due to the paid activity.
1.

LinkedIn Ads

2.

Twitter Ads

3.

Tik Tok Ads
Some platforms use the bid strategy for the ads but some platforms use the pay as you go or charges will be applicable once the ads were clicked. Use the ad strategy as per your need.
We all know that content is a king and generating the hig quality content and distributing the same using various platform for the growth of traffic, customers, leads generation and brand awareness.
1.

Blog : We write the customer engaging content

2.

White Papers : This helps in generating the leads giving the information about the products

3.

Video: Creating video for the purpose of customer engagement and lead generation.

4.

Infographics : Information about our products in the form of visuals and images.
One of the best marketing tools which help the company to divert the customers to their website helps in promotion and distributes the offers and discount and companies can send the newsletter about themselves who subscribed for the same. There are types of email you can send to the customers such as
1.

Offers and discounts

2.

Welcome email

3.

Loyalty program

4.

Informative emails about the products and services
When we produce the content and distribute in such a way those customers get attract, engage and get all the update at each and every stage of sale cycle, this process is inbound marketing. Such kind of marketing is always encouraging the companies to work in the favor of the customer so that both company and customers get the maximum benefit. Inbound Marketing is like
1.

Blogging

2.

Video marketing

3.

Email to existing customers
In this kind of marketing you promote the products and services on third parties website and commission has to be paid if the sales take place.
· Advantages of Digital Marketing
Digital marketing in not very popular because it's new technology and easy to use but has many advantages as well; let's take a look of few of these
Marketing cost is always on the higher side for the businesses only big businesses will be able to manage effectively, but spending too much on marketing is not possible for the small business or the startup in that case digital marketing is the best possible option. Marketing using the digital platform is always a win-win situation for everyone and it can save lots of money.
For any activity which gives high return is always good for business, email marketing and running ads on various platforms cost less with high returns.
The success rate of any digital marketing activity is easy to manage and always easy to measure, no matter if it's a organic or non-organic activity. Take any medium email marketing, google ads, facebook ads it's always easy to check if we are doing good or not.
4.

Brand Awareness and Development
Small business, startups and big business al can use the digital platform for brand awareness and brand building. Brand awareness and development can be achieved by blogs, ads and content distributions and image posting.
This is I think the best feature of digital marketing, its always easy in digital marketing to do specific targeting to the audience. We can run the ads and reach out the audience who might be interested in our products and services.
If you don't have website for your products and services than also you can start selling through social media and you will be able to achieve the desired result and expect the good revenue. If customers likes you products and services they will review you on social media and you will get more business as reviews will have positive impact on your business.
Digital platform makes this world a small village; if you run your ad from any country that ad will be visible in another country as well. It's easy to get engaged with customers without geographical boundaries and there are high chances you will customers from other countries as well and this will help you to expand the business.
Conclusion
Digital Marketing the one of the most beneficial and sophisticated term of marketing, many business be it small, startup or big business they always try to get the maximum benefit of the digital marketing, when people come to know what is digital marketing they think this is the best possible option to grow the customer base of the business and expand the business with geographical boundaries.
Businesses always find the digital marketing always a best deal for the, it's a clear indication that digital marketing has a bright future and slowly digital marketing will take over the marketing in complete, go for digital marketing for your business and take the most use of it.