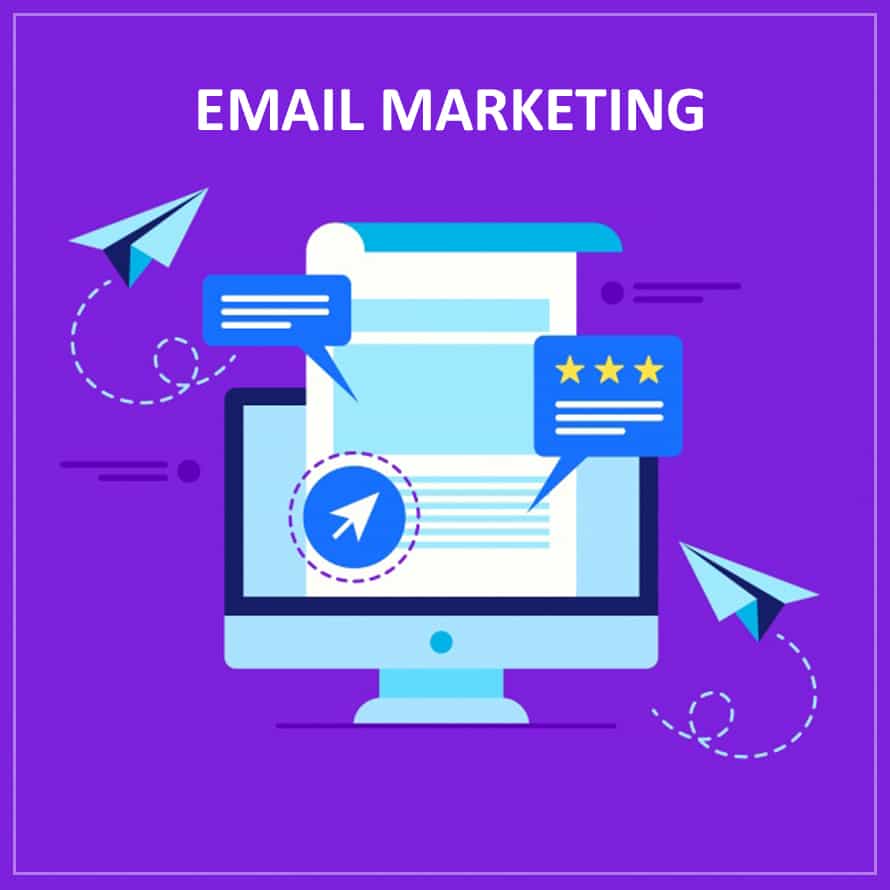 In today's fast-paced world with increased internet and mobile usage, people resort more to digital shopping and there is a reason for all this. It offers a wide range of products, some offer even international products, customers do not have to travel through traffic, lack of time is just stating the obvious.
Email Marketing offers information on different products or services to customers at their fingertips. For the seller, it is an extremely cost-effective way of reaching out to his customers. When practiced correctly, email marketing can forge a lasting connection between the customer and the brand, helping to build sustained sales for the seller and good value for money for the customer.
Lots of people say emails are a thing of the past, but the digital world is constantly changing, and new data is crunched on what buyers want to see digital marketing, email marketing gets a huge thumbs up as a great way to directly reach customers.
Compelling newsletters, along with informative and educational content, giving clear directions will help you to retain your customer base. It should make him feel that the email is meant for him alone. You need a good strategy, engaging content, innovative ideas and good understanding of customer's requirements to build up a good email marketing strategy.
What is Email Marketing
Email Marketing is using emails to promote and sell your products or services to your customers. The customer is informed about the products or services, the latest trends in the markets, hot selling items, product launches, discount sales through these emails.
Email Marketing is about your customer and if you keep him in the forefront in building your strategy, your customers will not only read all your mails but will also look forward to the next one.
How Does Email Marketing Works
Customers have signed up on their own for these emails, which goes to show the customers eagerness to know more about the platform and its product or service offerings. Below are some of the reasons it has helped many companies stick to and many companies turn to email marketing as a viable option:
·

Customers sign up for marketing mails on their own:

Customers sign up for marketing emails, only when they are really satisfied with what they see on the website and realize they are getting value for money. This guarantees a better email open rate.
·

It helps you build relations with your customers

: It is a cost-effective channel to strengthen your relations with existing customers and develop loyal relations with new customers.
·

It is fast, low cost and easy to operate

: It is low cost and easy to understand the working of sending emails. There are various templates for creating marketing emails which will guide in creating one for yourself.
·

Easy to track

: Gathering metrics around how many emails were opened, how many clicks happened, how many emails were converted to orders, the rate at which your email list grows, how many emails were shared or forwarded to others, is easy to gather. So, you understand the success of your campaign easily.
·

Personalization is the key to successful email marketing

: It is possible to personalize the subject line and the email to include your customer's name and this has a great impact on the customer and the open rates of such emails tend to be much higher.
·

You can segment the customers

: This allows you to further personalize the mails as per customer requirements by creating different lists or segments and sending different messages to each segment.
Email marketing can be integrated with other media:

Other marketing media like social media, ad campaigns,

email marketing can all work together forming innovative strategies to reach the target audience of current and prospective customers.
Types of Email Marketing
There can be many types of email marketing that can be sent out and they can be broadly categorized into the following three
·

Transactional Emails

: Transactional emails like Order confirmation emails, shipping confirmation emails, Customer feedback emails form an important aspect in improving the customer's experience with the website. Their dispatch and timely action help in building a loyal customer base. These can be easily automated as well.

·

Promotional Emails

: Promotional emails for product launches, discounts, and other offers, promoting a sale, customer survey emails, celebrity events and so forth should be promptly sent out giving the customer clear directions for the event. Newsletters telling stories of the brand also fall under this category and help in reaching out to customers helping them to relate to the brand in a more personal manner.

·

Lifecycle Emails

: Lifecycle emails though sent out to a small number of customers are very important because of the reason they are sent out for. Emails like Order abandonment emails, shopping cart cancellation emails, win back emails, Second Order emails should be carefully worded and delivered in a timely manner. These emails should help in winning a customer back and create brand loyalty.
How to Begin Building the Email List
The first step to start your campaign is to build the email list. There are service providers who offer readymade lists of customers but market analysis has proved that is better to build your own list by following different methods like:
·

Have a landing page on your website which encourages customers to enter their email address and stay up to date with the latest information on a product launches, discounts, offers, events
·

Include an email sign up form on your About us page and on your blog page
·

Set up a pop-up form when a visitor is going away from your website
·

New marketers can think of including an offer or a contest and encourage visitors to leave their email address
·

Encourage customers to leave their email address after their first purchase
How to Write the Content for Email Marketing
In today's competitive world you not only need new customers but also need to have to return customers who want to purchase more of your products or services and increase your sales and the success of your venture. The content of the email plays a very crucial role.
·

Understand your goals:

First and foremost, understand what is your goal in sending this email. Is there any special offer, is there a sale you are trying to promote, is it a product launch, a celebrity event happening? The intention of the email should be clear and only that should be covered in the email. Do not overcrowd one email with multiple things, it just confuses the customer.
·

Fun-filled and curious subject line:

Have a subject line that makes a person curious about what could be the contents of the email, and compels the customer to open the email.
·

Catchy headline

: Start the email with a great and catchy headline
·

Engaging content

: Have content that is engaging and makes the customer want to read the entire mail, Include enlightening content in the form of infographics, blogs, GIFs, whitepapers, social media updates. The content should appeal to the customer and it should directly speak of their interests and needs, and demonstrate value.
·

Personalize the content

– the recipient has signed up for this content because he is interested in what he sees on the website. Offer him what he wants to see. Personalize the content by sending content to segmented lists.
·

Call to Action

: Make sure your emails are guiding your customers to a limited number of actions. You want them to click on something in the email once they have read the mail, right? Use a high contrasting button which is easy to see in the email. Don't confuse the customer with too many CTA buttons. It might result in no action and no clicks from the customer.
·

Provide value:

Highlight offers that could be lucrative to the customer and give concise and clear directions on how to avail these offers in the email. If there are start and end dates or any other conditions to be met highlight it so that it is visible even when the person scrolls.
·

Automate the sending process

: Another step would be to automate the process which will ensure that messages are sent out as soon as it meets certain triggers, but ensure that the content is personalized. The customer's name in the subject line and on opening the mail plays a vital role here.
·

Visibility on mobile:

Consider the fact that most emails are going to be opened on mobile phones so the font should be big, the subject line should be catchy and curious but also short. The entire content should be correctly visible on a mobile phone even if the user scrolls back and forth.
·

Build brand loyalty:

Reach out, reach out, reach out. Take the special effort to build brand loyalty through your emails, because emails can be personalized for your customers. It is not like an ad campaign where you are reaching out to a wide-ranging people.
·

Include a PostScript

: Summarize your offers in a PS (PostScript). Most people read only the subject line and the PostScript.
Limitations of Email Marketing
There are some limitations in email marketing and these can be overcome by having trained and experienced staff who diligently work towards finding solutions for these issues:
·

Healthy infrastructure:

A set of IP addresses that have not been blacklisted should be the healthy infrastructure set up from which to send your emails.
·

Mails going into spam and/or not being delivered:

Email service providers have developed spam filtering so that users do not receive spam or fake mails. Simple steps will ensure that your brand is not affected and your mails do not end up as spam by ensuring that the customer has opted for the email, building your own email list, not sending too many emails, configuring a name the user will identify as your business/brand or is familiar with as the email sender or the "From", using segmented lists as target audience so that content stays relevant as per segment, include a reply to in your email so that users reply to the email. Don't use misguiding subject lines. Certain special characters also when included in the subject line can lead them into the spam folder.
·

Keeping a good and updated distribution list:

Some customers who do not open the email should be moved from this list so that delivery rates are not affected. Other than that, when new users get added, some old users opting out, some have an email address change, name change, delivery details changed, so the person looking after the distribution list has to keep all these points in mind and work towards keeping an updated distribution list. Also give the user the opt-out option, which is better than the mails being unread or deleted by the users.
·

Good Email content and keeping your customer engaged:

You need to know that the content is the main trigger for the email to be read or deleted. Good content is the key to the email being read and the customer being loyal to your brand. Continuous deletion of emails can lead to those emails being marked as spam.
·

Designing a good email that is clearly visible on any device:

Most users view their emails on mobile nowadays. There is a trend to use images and GIFs in your emails. When working on such designs you need to ensure that it is easily viewable on any device. A guide to including good content in your email is given below.
Conclusion
With a good website, email service provider and by following the tips above you will develop new customers and better sales with every new email campaign. Always remember to keep a relevant list of customers, monitor the most applicable KPI's and develop readers that are genuinely interested in your products and services.