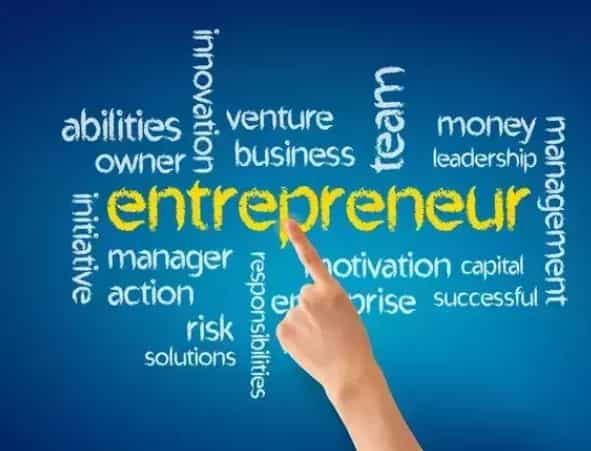 The word Entrepreneur coined from the French word "Enterprendre", it means to do something or to undertake.
An individual who creates the new business idea & implements the same effectively & bares the maximum risk & enjoys the rewards is an entrepreneur. In another way, we can say an entrepreneur is an innovator or creator of new products or services which is extremely new in the market. An entrepreneur is a small business owner but not all business owners can be considered as an entrepreneur.
Entrepreneurs are the one who is responsible for the implementation & success & the failure of the projects. Entrepreneurs are the decision-makers who takes the best decision of the success of the idea or the product.
Entrepreneurs can be extremely helpful to grow economy, good policies for entrepreneurs may have the positive impact on the economy as they create new services & products, which leads to the rise in employment & some entrepreneurs helps in social development as well.
Entrepreneurs never have the same plan they just do trial & run for the success of the project, which ultimately leads to the success of the project.
An entrepreneur doesn't have a bossy attitude, they are always comfortable & confident in uncertainty. Entrepreneurs understand very well that owning a business is rewarding & fulfilling at the same time it's a big risk, so innovation is the best way to attain success. Let's understand effectively What is an Entrepreneur?
Who is an Entrepreneur?
Many think businessman & entrepreneurs are the same, but they are different in many ways. Both are very different in the way they think, act & they implement. Lets deep dive into who is an entrepreneur?
An entrepreneur is an initiator
No doubt we can say that the entrepreneur is an initiator and a risk-taker. Who can create something new such has products or services, he is always a beginner. Many people have different ideas but who convert that idea into reality, is an entrepreneur.
Entrepreneurs are responsible & accountable
An entrepreneur is a responsible & accountable for their own actions & the future od the company or the project. An entrepreneur must lead everyone for the ultimate success of the project.
Entrepreneur has solutions
The entrepreneur always has solutions for any blockage or hurdle. Providing solutions for any specific problem & solving that in an effective way make a good entrepreneur.
So we can say that the person who is a started & responsible for the future of anything which is started & providing the best solution for a problem is eligible to become an entrepreneur.
What are the Types of Entrepreneurs


Entrepreneurs always know as creator, who can create reality from the idea or can create which is extremely new. There are various types of entrepreneurs, let's discuss the types of entrepreneurs
Serial Entrepreneurs
Aa individual who on a regular basis comes up with the idea & converting that idea into a product or a company & after sometime ready to sell that to the investors or any another company. Such entrepreneurs are high-risk taker & always has an unique idea & not very much interested in any specific business.
Social Entrepreneurs
Entrepreneurs who create something which helps in solving any social problem, such entrepreneurs involved in nonprofit activities & ready to fulfill social responsibility. Such entrepreneurs are always ready to create better condition for socio-economics, health & education conditions for others.
Lifestyle Entrepreneurs
The entrepreneurs who start a business from personal passion. They choose to build their business instead to sell it to others. Such entrepreneurs are passionate about their work & do it with commitment & put complete energy to complete the project effectively.
Fabian Entrepreneurs
Entrepreneurs who are infidel about making any changes in the organization. They basically are not the innovator but they follow the innovators however only after satisfied with the success rate of products or services. They wait for the result before implementing any new things within the organization.
Imitating Entrepreneurs
Such entrepreneurs don't innovate anything themselves but they copy the product & technology very quickly, which was innovated by others. Such entrepreneurs are mostly based in underdeveloped countries where there is no policies or fewer resources available for entrepreneurs. Such entrepreneurs help in booming the industries in underdeveloped countries.
Feminist Entrepreneurs
Entrepreneurs who apply feminist values within their entrepreneurship journey, they mostly work for the benefits for the girls & women. Such entrepreneurs mostly follow "for women, by women".
Drone Entrepreneurs
Entrepreneurs who are reluctant for any changes are they follow old school & don't want any changes within the organization. They not at all ready to make changes even if they suffer loss in the ongoing process.
Irrespective of the types of entrepreneurs they always add value to the society & in the economy as well.
What are the characteristics of Entrepreneurs


Successful entrepreneurs have many things in common, how entrepreneurs use their qualities to make things work as per plan that makes a big difference. Let's discuss more some of the best qualities of entrepreneurs.
Self Starter
If something has to be implemented, entrepreneurs know how to start work for that. They don't want others to do it they start itself & lead the others to do it effectively.
Confident
Whatever steps they take to complete the project they are very confident about their actions. They never ask anybody else if they can succeed or not, their confidence in their armor.
Creative
When entrepreneurs start something new like others they also face challenges, however, entrepreneurs know how to overcome the challenges with their creative solutions. Those the creative solution helps them to complete the projects smoothly.
Disciplined
This quality of an entrepreneurs help them to stand out as they don't get distracted soon, they know that distraction will divert their focus. They are so disciplined that they always the outline of their work to succeed.
Open-Minded
Entrepreneurs are always open-minded, they always ready for changes & always ready to implement a new concept within the organization.
Competitive
Every entrepreneur must accept the challenge as it comes & ready to give challenges as well, this will make them competitive & because of their competitive attitude they can show a good track record of their companies.
Motivated
Another best quality of an entrepreneur, they not only keep their motivation level high but helps others to keep their motivation level up.
Determined
Entrepreneurs never loose the hope due to any failure, they see failure as an opportunity to learn. They are determined in such a way that they try everything for success.
Strong Work Ethics
Entrepreneurs always follow the strong work ethics, to accomplish something they don't follow which is not acceptable, if it takes time to succeed they always follow the ethical way to succeed. Wrongdoing is big NO No for them.
Quotes from Entrepreneurs
Successful entrepreneurs make successful companies, products which inspires many others to start the entrepreneurial journey. In the same way quotes from entrepreneurs also give direction to many people, here are some famous quotes from great entrepreneurs.
Walt Disney
The way to get started is to quit talking & being doing.
Steve Jobs
Your work is going to fill the large part of your life, and the only way to be truly satisfied is to do what you believe is great work. And the only way to do great work is to love what you do.
Richard Branson
You don't learn to walk by following rules. You learn by doing & falling over.
Jeff Bezos
I knew that I failed I would not regret that, but I knew one thing I might regret is not trying.
Bill Gates
It's fine to celebrate success but it is more important to heed the lessons of failure.
Warren Buffett
It's not necessary to do extraordinary things to get extraordinary results.
Conclusion
The journey of entrepreneurs is not smooth they have to face many ups & downs, however, their determination & confidence helps them to grow & overcome the hurdles. One can easily identify the difference between businessmen & entrepreneurs, a businessman will sell the watermelon & an entrepreneur will sell the juice of a watermelon. They don't do different things but they do things differently.